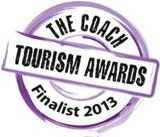 The Tynedale Hotel Llandudno has been recognised as a finalist at the annual Coach Tourism Awards, held last night in Liverpool.
The national awards scheme, organised by trade magazine Coach Monthly, and hosted by television presenter and travel and tourism expert, Judith Chalmers, recognises excellence and innovation across the coach tourism industry and includes industry suppliers, coach tour operators, tourist destinations and attractions.
Tynedale Hotel was a finalist in the category for accommodation provider of the year that recognises an individual hotel that demonstrates a commitment to welcoming coaches, coach groups and coach drivers.
Commenting on the company's success, owners Tracey & Nathan Midgley says: We are delighted to be named finalists, years of capital investment has seen us evolve into a boutique style operation with a commitment to quality and genuine hospitality, our aim is always to exceed our customers' expectations. We genuinely believe a hotel is only as good as its staff, no matter how nice you make it look and we are really fortunate to have a fantastic team of 40 working with us and that their hard work has been recognised by the industry.
"The Coach Tourism Awards is the only national awards scheme to focus specifically on the coach tourism community," says the editor of Coach Monthly, Stuart Render. Tynedale Hotel and the other industry suppliers play a key role in delivering a high quality of service to coach operators across the UK. Tynedale Hotel was up against the leading names in the sector so this is therefore a well-deserved and a significant achievement. Our winners and finalists are at the forefront in delivering excellence across all sectors of the industry, helping to raise the quality of customer service and quality across coach operators, destinations, visitor attractions and tourism industry suppliers."
The Coach Tourism Awards is the only national awards scheme to focus specifically on the coach tourism community,
– Editor of Coach Monthly, Stuart Render